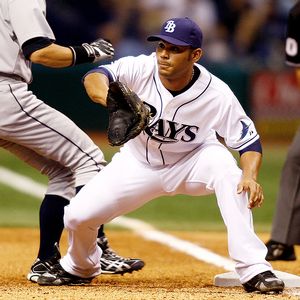 By JC De La Torre
First Baseman
Carlos Pena
became the first member of the Tampa Bay Rays to win the American League's highest defensive honor, a gold glove award. Pena led all American League first basemen with a .998 fielding percentage to go along with 991 put outs and two errors.
While Pena celebrated his gold glove, the rest of the Rays stellar defense was left without. Boston's
Dustin Pedroia
beat out
Aki Iwamura
at 2nd for the gold glove. Pedroia had a .992 fielding percentage with 6 errors, which was slightly better than Aki's .990 and 7 errors.
Adrian Beltre
of the Seattle Mariners beat out
Evan Longoria
at 3rd base. Beltre finished with .964 fielding percentage and committed 14 errors. Longoria had a .963 fielding percentage but only committed 12 errors. Beltre did play 21 more games than Longoria. The Texas Rangers'
Michael Young
won the gold glove for Short Stop, finishing the season with a .984 fielding percetange and only 12 errors.
Jason Bartlett
, who was key to shaping up the infield for the Rays defensively, finished with a .970 fielding percentage and committed 16 errors.
You can't really make any arguments that any of the Rays players deserved to win the gold glove over those players who won it this season. Longoria may have had an argument, but Beltre did play more games. I'd say it was a pretty darn good job by MLB on this one.
Here is the complete Gold Glove winners for the American League -
P, Mike Mussina, NYY
C, Joe Mauer, MIN
1B, Carlos Pena, TB
2B, Dustin Pedroia, BOS
3B, Adrian Beltre, SEA
SS, Michael Young, TEX
OF, Torii Hunter, LAA
OF, Grady Sizemore, CLE
OF, Ichiro Suzuki, SEA