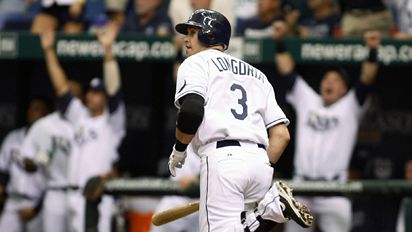 By JC De La Torre

Here we go...

Dan Wheeler takes over...

Konerko at the plate...takes strike one! Takes Strike two...Cowbells are a-ringin'...fans on their feet...fouls off a pitch...just missed, ball one low...high, ball two...grounded foul...Outside for ball three - Konerko thinks its ball four - DOH! Ground ball foul...ground foul again...10th pitch of this at bat coming up...another foul...High fly ball deep to left....way back...fair and gone - HOME RUN for Konerko!

Griffey is up...takes strike one...now a high fly ball deep to left but playable, Crawford under it...out number 1...

Ramirez is up...takes strike one...ball in the dirt-ball one...swing and miss, strike 2...cow bells banging...pop foul...pop foul again...man, are they working Wheeler...Ramirez throws the bat at the ball..connects foul...SWING AND A MISS STRUCK HIM OUT! TWO DOWN!

And now AJ Pirzynski...Take strike one...Ball one, just outside...High fly ball, deep to center, BJ under it...makes the catch!

RAYS WIN! RAYS WIN! RAYS WIN!

The Tampa Bay Rays take game 1 of the ALDS, defeating the Chicago White Sox 6-4!

Player of the game: Evan Longoria, 3-4, 2 hrs, 3 rbi

Good game by the Rays today - we knew the White Sox had power but they were able to manage it and pull off the win.

So the Rays are up 1 game to 0 and have a chance to take a 2-0 lead tomorrow night. We will not be blogging Game two, but we will definitely commenting after the game is over.

How bout those Rays Tampa Bay!